Fire & Life Safety
Designs.Solutions.Products
From McKEON Door Company, the Industry Leader in Fire Doors, Fire Curtains, Security Grilles, and More
McKEON's emphasis on special-purpose fire door systems has provided architects and design professionals with innovative, flexible solutions and product performance that is unprecedented in our industry. This product innovation includes horizontal fire shutters for protecting openings between floors, as well as vertical and side acting fire door systems that provide fire and smoke protection while allowing for emergency egress.
DOORS AND CURTAINS FOR ALL OPENINGS
The challenge in larger spaces is how to contain a fire to prevent widespread damage to the building. McKEON has innovative designs that will surprise you in their form as well as function. Large stairways in hospitals and county buildings, escalators between floors in malls and convention centers, open architectural designs designed to let light and airflow freely, and other unconventional designs can all benefit from a McKEON fire door that is custom designed for that particular space.
SAFETY FIRST IS PARAMOUNT
The immediate benefit of closing off a high traffic stairway to prevent a fire from spreading is obvious, but your next thought is, what if someone is trapped? Extending from our leadership and throughout our company, every member of the SSE Team, along with the McKEON team is trained and educated to provide exceptional solutions for our clients. One of those exceptional solutions is having built-in egress doors in their fire curtains to allow emergency access once the fire curtain has closed off the area.
HORIZONTAL AND VERTICAL SOLUTIONS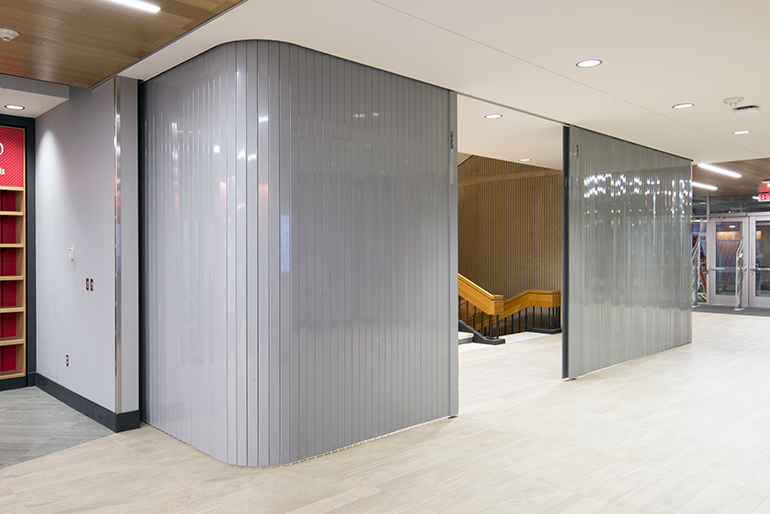 While some spaces are easily handled with a vertical fire door or curtain that drops from the ceiling, that isn't always a practical solution. That's why McKEON developed fire curtains that come out from the wall and follow a track, like a room partition. Still other solutions include horizontal fire doors that cover openings between floors. That's why they say that their products are "unprecedented in our industry" and the SSE Team will work with your protection and installation needs
PROTECTION FOR SMALL SPACES
Emphasis can easily be on the larger spaces, but even small spaces need protection. Even single elevators can have protective coverings that prevent smoke from penetrating areas while still allowing egress should that be needed. The smaller spaces are easy to overlook in favor of larger areas but don't fall into that trap. Smaller spaces could be the difference between a full building loss and a contained loss that can be remediated.
Don't settle for a solution that isn't up to the job. All McKEON fire and smoke rated products have been tested in certified laboratories to UL (Underwriters Laboratory) standards. When you are looking for a fire safety partner for doors and curtains in your building, choose McKEON products.
SOLUTIONS FOR ALL SPACES
A wide choice of operation types also provides an opening protective per door storage location. McKEON also offers some very large solutions that help to open up the maximum allowed square footage of fire and smoke barriers. This overcomes the limitations of maximum dimensions that other manufacturers are restricted to. These oversided openings protect the open concept area and design while meeting the building code requirements.
SSE is a licensed, insured and fully bondable FL WBE covering the Southeastern US.
Contact Us today for your pending project.